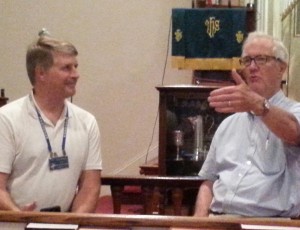 Recently Ken interviewed one of our charter members (Chuck Root) about how the chapter was... more
The West Branch Barbershop Chorus and chapter quartets will be performing for the Summer Concert Series in Danville's Memorial Park on Tuesday, July 30th, 2019. Come & bring a lawn chair -- enjoy the harmonizing.
West Branch Chorus rehearsal - this coming Tuesday, July 23rd, 7:30p, at St. John's United Church of Christ, Lewisburg. We'll be preparing for Danville's Concert-in-the-Park set for July 30th.
Thank you all who attended our Fall Show for which we cannot operate without your support and you truly are... more
The Chorus has recently moved to a new location!   We now will be rehearsing at St. John's United Church of... more